For our 1-year anniversary, Alberto and I just wanted to get away somewhere simple. Did you know you can go camping on Fire Island? It was ideal– right at the beginning of the season it was very quiet, the campground couldn't have been more than half full. We had miles of beach essentially to ourselves. We went the weekend after Memorial Day, so it wasn't warm enough for a swim, but Sunday was warm enough for hours of basking in our swimsuits– just what we were craving after the long winter!
Going at the beginning of the season spared us from mosquitos and ticks as well, which I understand are pretty meddlesome later in the summer.
The campground at Watch Hill is pretty easy to get to from New York. We drove an hour on the scooter out through Long Island to catch a ferry. The Watch Hill ferry drops you right at the campground, but if you want more ride options, you can also take the ferry that drops you off at Davis Park, a tiny town that is about a 25-minute walk from the camp. And the campground itself has great facilities, including full bathrooms with showers, and frequent water spouts throughout the grounds.
The distance to Davis Park is pretty ideal too. The walk to and from is gorgeous, with a raised boardwalk the entire way that crosses through the dunes effortlessly. You're likely to see a group of deer or two, that don't seem to mind you too much, and plenty of adorable little fox-like creatures. Alternatively, you can walk along the beach, which is what we did the first afternoon upon realizing we'd forgotten matches. We also picked up some veggies to grill, and you can grab any other necessities you might have left at home. One night we walked along the boardwalk during 'magic hour' to get dinner at Davis Park's single restaurant, and walked back to camp with only the light of the moon and stars, to the sound of waves. It was pretty romantic.
On the other side of the campground is miles of dunes reserve. I think we walked along the beach for about an hour in that direction, and didn't see another human being.
I know camping certainly doesn't sound exciting for many, but it's surprising how romantic it can be. Sure, our first evening's fireside dinner was foiled by the rain and we ended up sitting in the tent eating cold vegetarian baked beans out of a can. But that just gives us good memories to laugh at. Our other two nights we fell asleep curled up together for warmth to the sound of the waves, and woke up to enthusiastic birdsong. We took long walks together through gorgeous country. We toasted by the waves and Alberto surprised me with breakfast s'mores (though he insists they are American ridiculousness). And here's a big one: being unable to look at email/social media once your phone runs out of batteries.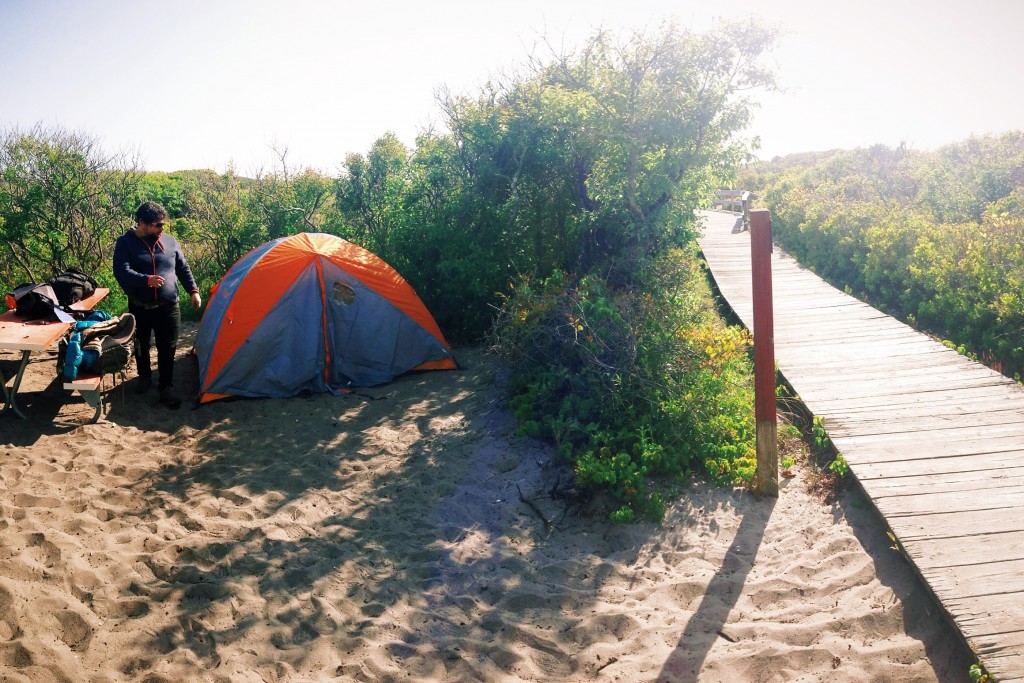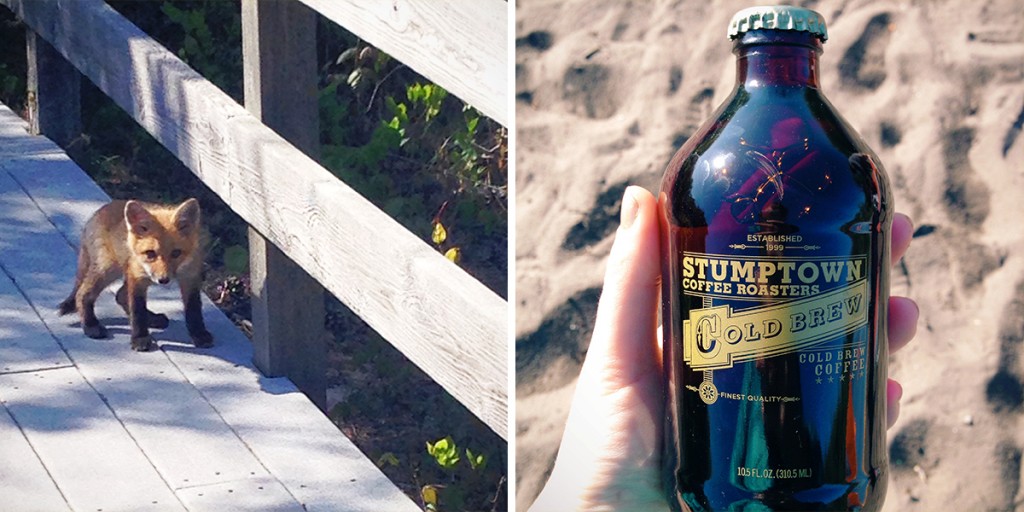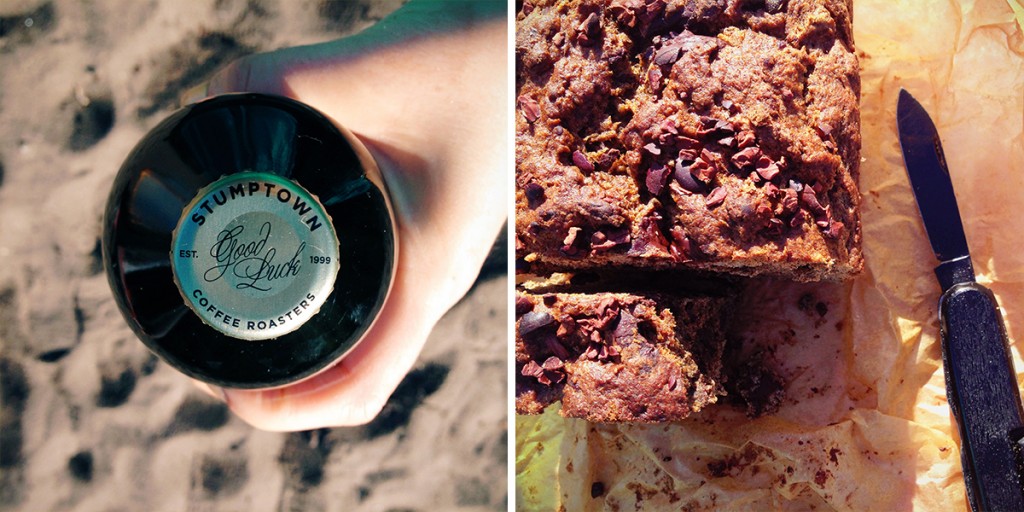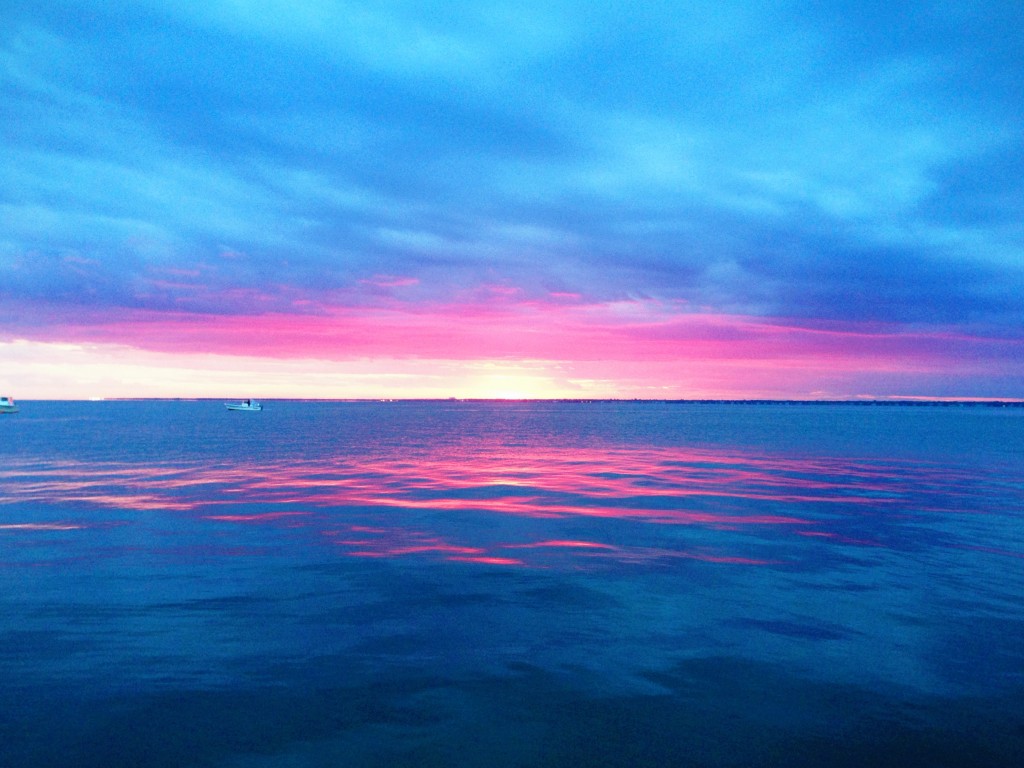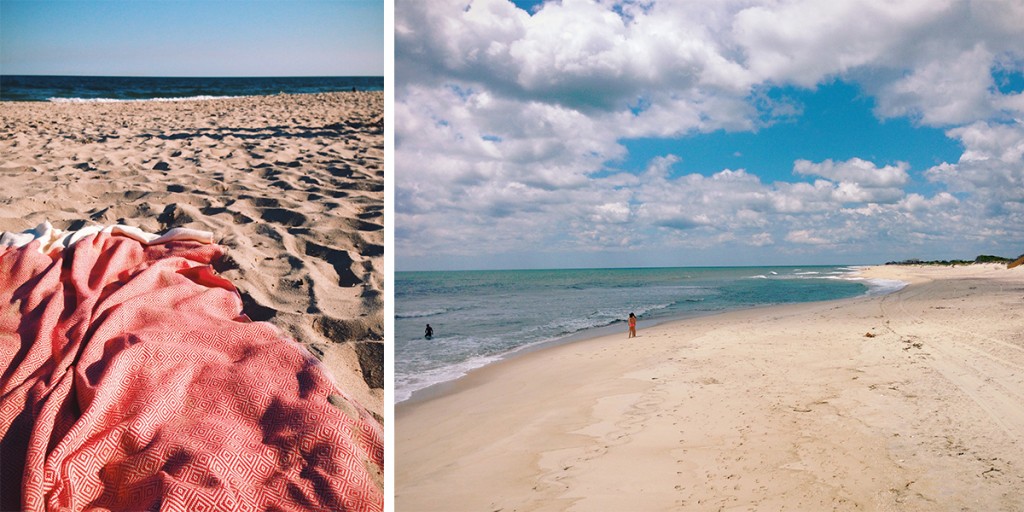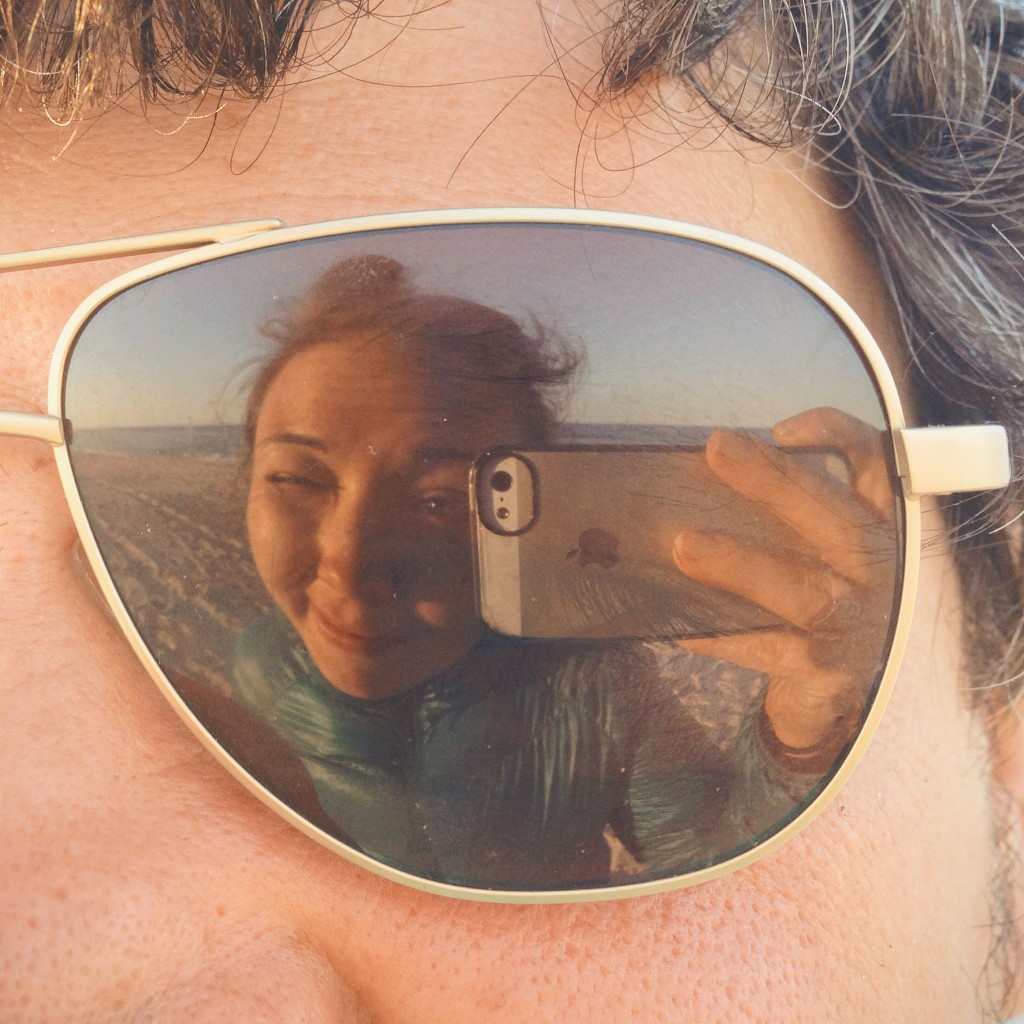 REI is an amazing place for New Yorkers who don't want to store camping gear they only get to use occasionally. You can rent tents, sleeping bags, and camp stoves for very reasonable prices! I also love bringing along a good cold-brew coffee if you don't want to tote all of your own coffee-brewing supplies (Fire Island doesn't allow cars, so we were trying to pack pretty light as we'd be carrying everything in on foot). Stumptown brews my favorite cold-brew, you can't beat the packaging, and it tastes amazing heated up over the campfire too. (MUST note, Stumptown has a lovely camp-brewing kit too!)
I think this must have come from my mother, but I have a compulsive tendency to bring a home-baked good along any trip. This time I really wanted to bring along a yummy banana bread that we could toast over the fire for a special breakfast, but also double as a dessert. This recipe from My New Roots hit the spot, especially when I added plenty of 70% dark chocolate, a couple of tablespoons of espresso powder, and a generous sprinkle of raw cacao nibs on top! To keep it intact as we stuffed our packs full, rode an hour with the pack on the scooter under the sun, sat on the pack waiting for our ferry, and trekked to the campsite, I froze the loaf when I made it a couple of days before the trip– stroke of genius. It was perfectly thawed as a welcome snack as we put up the tent.
What other ideas do you have for a simple, low-key romantic getaway? Did you ever have great plans that went awry? What are some of your favorite camping spots around New York City?
P.S. Towel from Free People  (sold out, but check out their great swim section, new this season), and sunglasses from Warby Parker (can't stop at one!).