I recently stepped away from a pretty dreamy career in beauty. The details of that life-change needn't be hashed out, but the immediate and drastic difference in my beauty regimen has genuinely surprised me. Each morning for the past 7 years, I used every product in my extensive beauty arsenal; starting with my skincare regimen, playfully tweaking my cosmetics depending on mood and outfit, and ending with my exemplary hairstyle. I was a representative of beauty in the field. A living advertisement. And I was great at my job.
Since retiring my makeup brushes and blow-dryer, I have flip-flopped to the other side of the spectrum: my skincare regimen is the simplest my conscience allows, I wear as little makeup as I can get away with, my long hair is almost exclusively in a topknot, and I dress like a tomboy. Sure, a day here or there is an exception to the rule, but this drastic response to my change in lifestyle and career really just makes me laugh.
Here's what's catching my eye these days for summertime: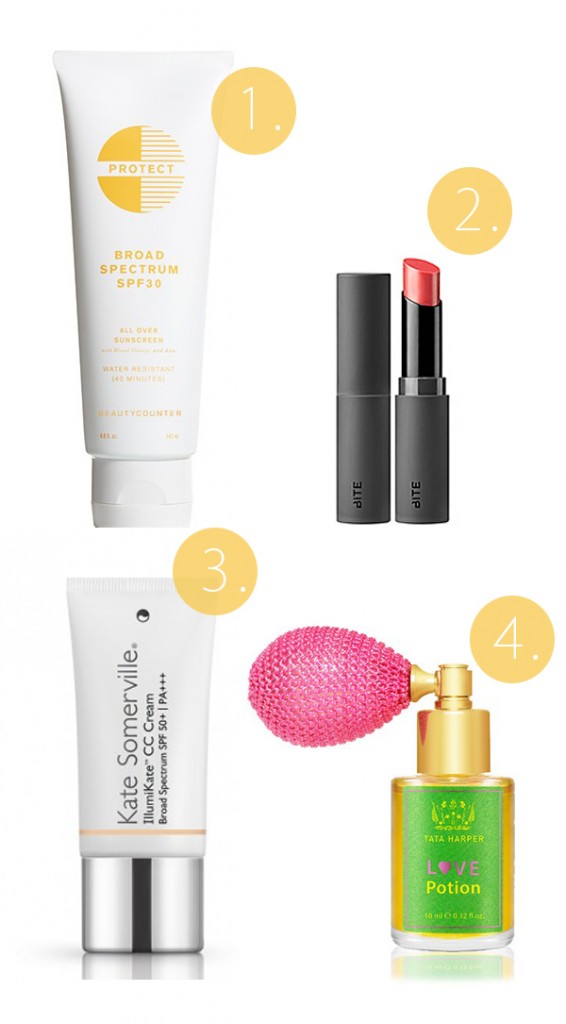 1. Conscientious without feeling heavy or pasty on this hot humid days? I'd love to be toting this next time I'm headed to Rockaway.
2. Bite Beauty has been one of my favorite lines for anything lip-related for a couple of years now. I'm a bit skeptical of all things BB, but sign me up for lovely ingredient-conscious color + kissable lips.
3. I'm every bit as skeptical of the inescapable CC craze, but I can't deny how much easier this CC cream makes my life! This was a lifesaver when I was on the Amalfi Coast last year.
4. I'm not so interested in the claims of a 'love potion' as I am in those dreamy notes and responsible practices of Tata Harper's organic farm in Vermont.