Our trip to Italy in August was unlike any other trip I've been on. It was the first time in years that I wasn't traveling alone, and it was surprisingly challenging to realign my expectations, desires, actions, and plans. I never got to choose where we were staying, had many other people to shape plans around (if I was the one doing the shaping at all), and had very little independent time. For better or for worse, I was seeing Italy for what it really is, rather than the Italy tourists choose to see.
It was also the first time I was meeting a significant other's family. An occasion for which I piled plenty of pressure on myself. Most of my anxiety was rooted in the fact that I had failed to learn Italian, the only language most of Alberto's family speaks. And I was right to be concerned, it wasn't easy to be the one constantly left out of conversations with people I very much wanted to get to know.
Happily,  I think I'll have more opportunities to get-to-know and connect.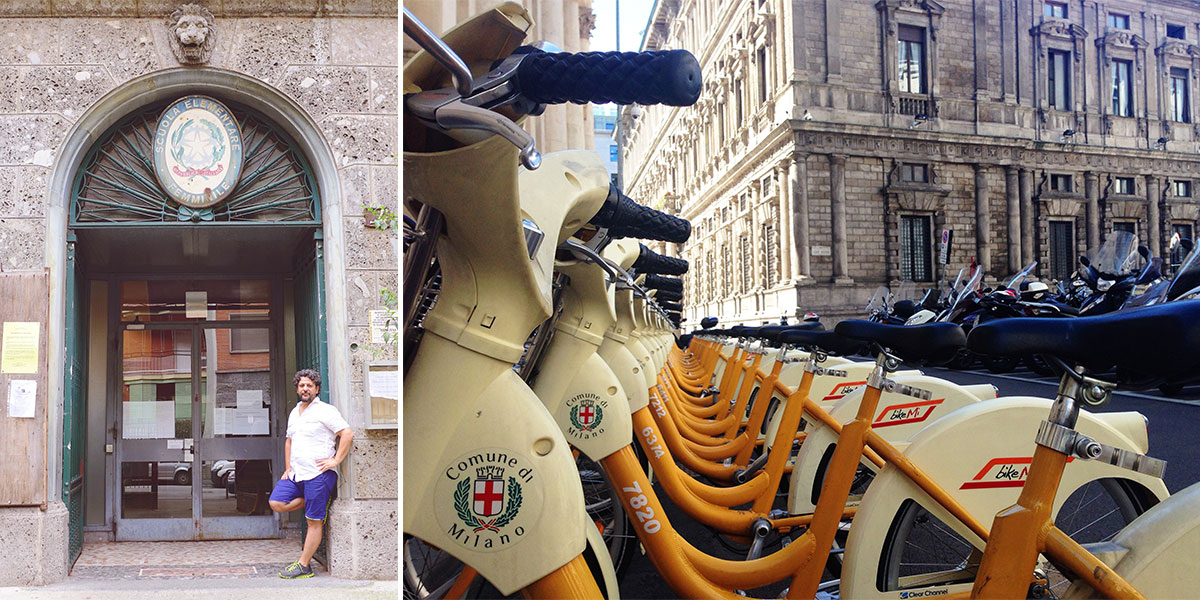 One of my favorite things about visiting Milano was being in the neighborhood Alberto grew up in. Since it was summer holiday, we actually got to go inside the elementary school Alberto attended. We saw all of his schools, his old apartment, his favorite parks, the church where he used to play soccer (before he politely declined church attendance and therefore soccer with his friends every afternoon). A couple of weeks later we even rediscovered the town on Lago di Como where his family had an enchanting corner of a villa for 10 years. It was so crazy to picture little Alberto running around the very same neighborhood his parents still live in. Particularly remarkable to me, having moved every 4 years in my first 22  years of life. Some of my favorite hours in Milan were also spent riding bikes around with Alberto. It was a great way to glide through the not-so-charming streets of Milan to get to the good stuff.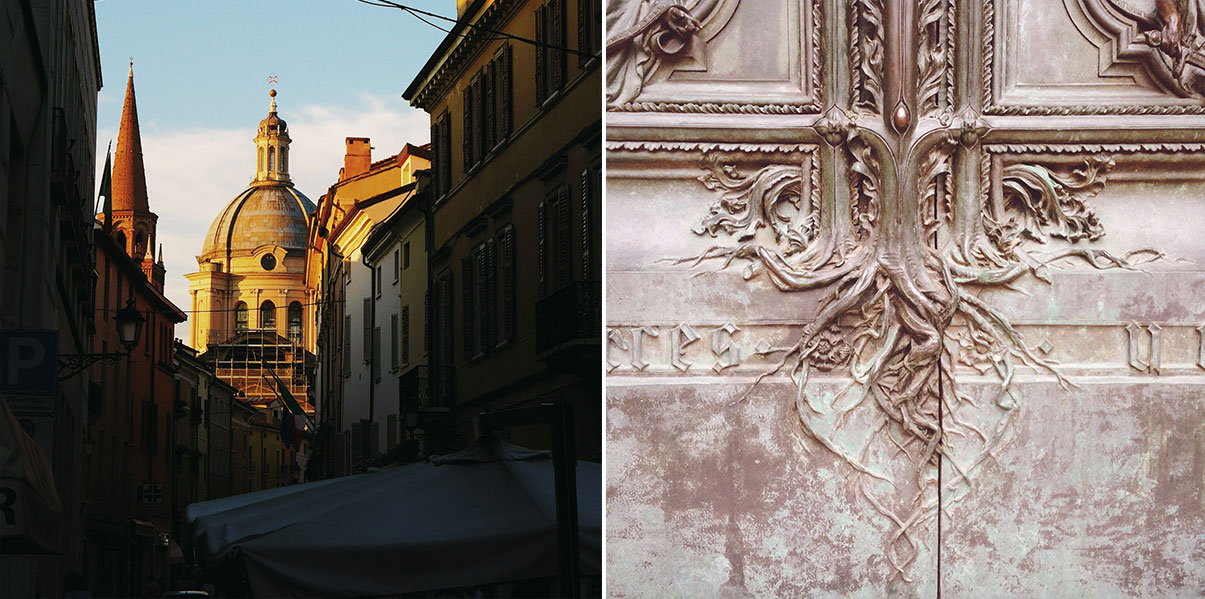 Pretty soon after we arrived, we were on a train for Mantova. Alberto used to spend a lot of time with the Lorusso family, who have now relocated to a tiny, tiny town outside of Mantova, and he didn't want to be in Italy without seeing them. The town is so out-of-the-way that a lady in an outdoor cafe asked if I was a 'real American'?! She had never seen one before in person. After a few house tours (an Italian will always give you a tour of their home), we enjoyed homemade pasta with the entire family, complete with many entreaties to eat more.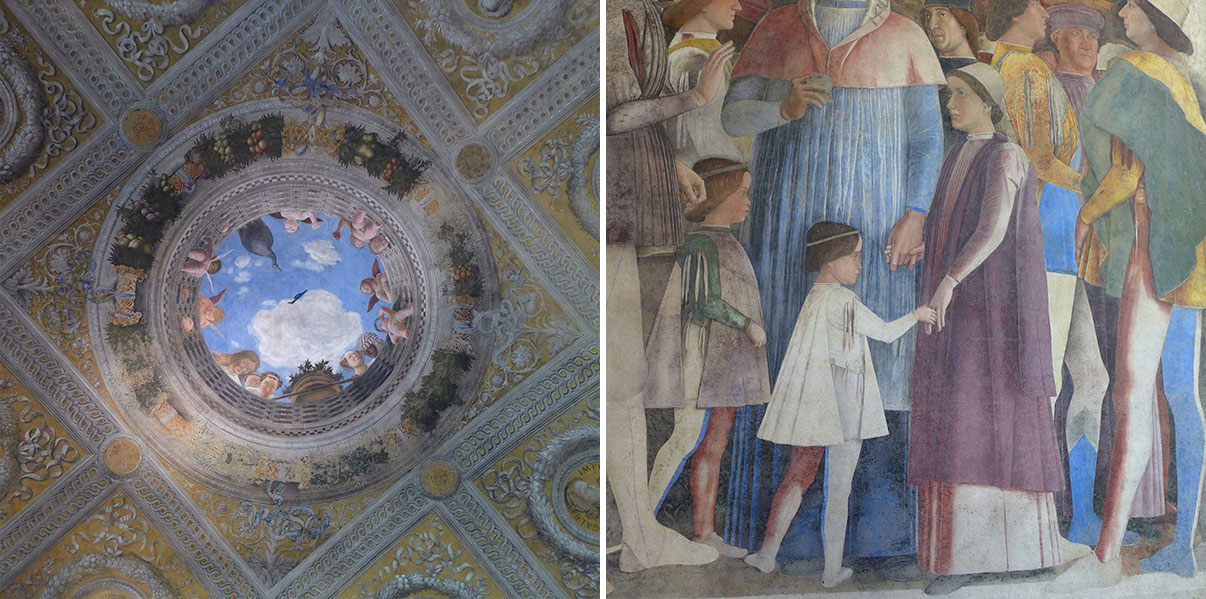 We got a peek of Mantova before we had to be back on the train, including a gigantic old castle with some incredible frescos on the walls. (I loved that little lady with her kids, above). Alberto couldn't stop lamenting how Italians can't take care of all of their old art and structures, there is just so much to be preserved and too little money for all of it.
I had a little wander around Milano, and Alberto got some work done, but I was really looking forward to getting out of the city. Because I live in New York City, I'm always quite ready to get to the countryside when I go traveling. And since it was August, Milano was such a ghost town. Most of the shops were closed and there was barely anyone out and about. And, you know I have to say, I don't think Milan's city planners did a very good job in the last 100 years. I like the canal (navigli) area, which has some nice character to it, and I do appreciate how well the fashion district is taken care of, but Milan just wasn't my favorite city to wander around in. Though Italians do know how to appreciate a good terrace garden.
Onto Lago Maggiore!
P.S. Dear readers, who else has language barrier troubles with their significant others' family? Who wants to learn Italian with me? Who else has made the transition from solo travel to traveling with a companion (and was your transition as clumsy as mine)? Stay tuned for my story of a major meltdown in the streets of Palermo…