Like most mornings at Lago Maggiore, we woke up lazily late and tossed around ideas for our day's itinerary over breakfast. (Our very Italian breakfast of… cookies).  Even though the weather was so poor, Alberto and I didn't want to leave the Alps without a little hiking, so we decided to drive up to the 2nd highest peak in the range, Monte Rosa. It was a stunning hour and a half drive, though I remember I could barely keep my eyes open that morning.
We arrived at the small village at the base of the mountain, clearly geared toward winter-time mountain activities, and found the lift to take us close to the top. We quickly discovered we'd drastically under-dressed. Back at the lake it was a day for tank tops, but when we hopped off the lift we were both desperate for coats! Alberto had packed us two of his sweaters, and we both had a super-light windbreaker, and we layered those (looking very unstylish) for the rest of the day.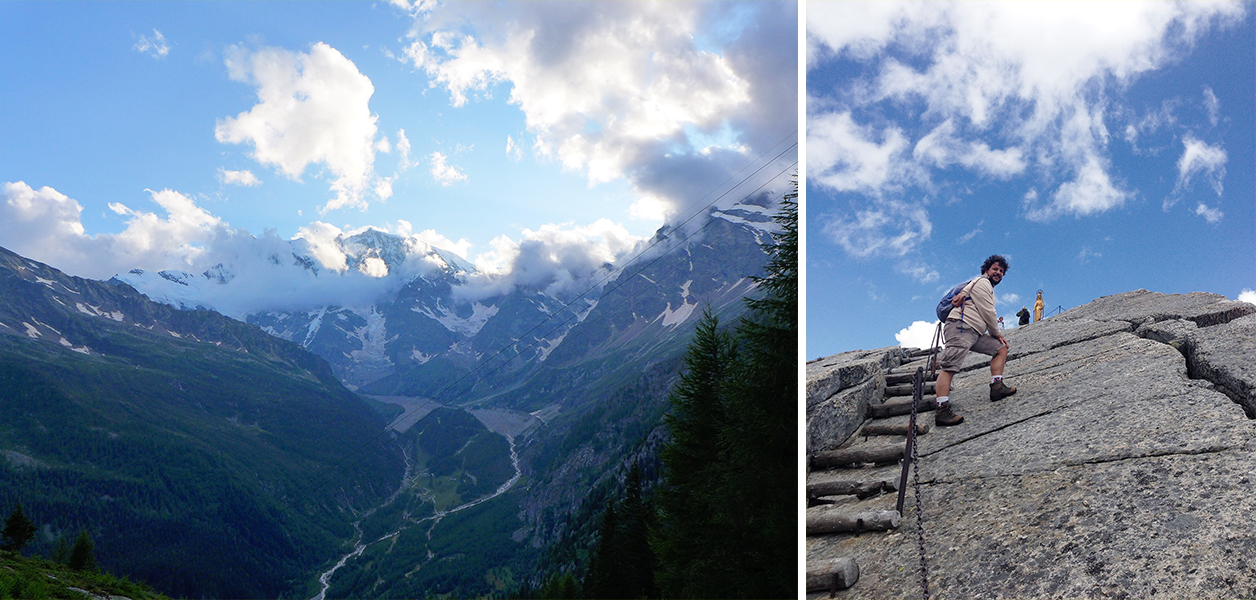 4 years ago I backpacked through Central and South America, flip-flopping between beaches and mountains from Mexico to Argentina. On that trip I figured there are inherently beach people and then there are mountain people. And although I absolutely love the beach, ocean, and swimming, at my core I am essentially a mountain person. My heart just sings when I am in the mountains. (Alberto is surprisingly a beach person, though luckily he loves the mountains as much as I love the beach).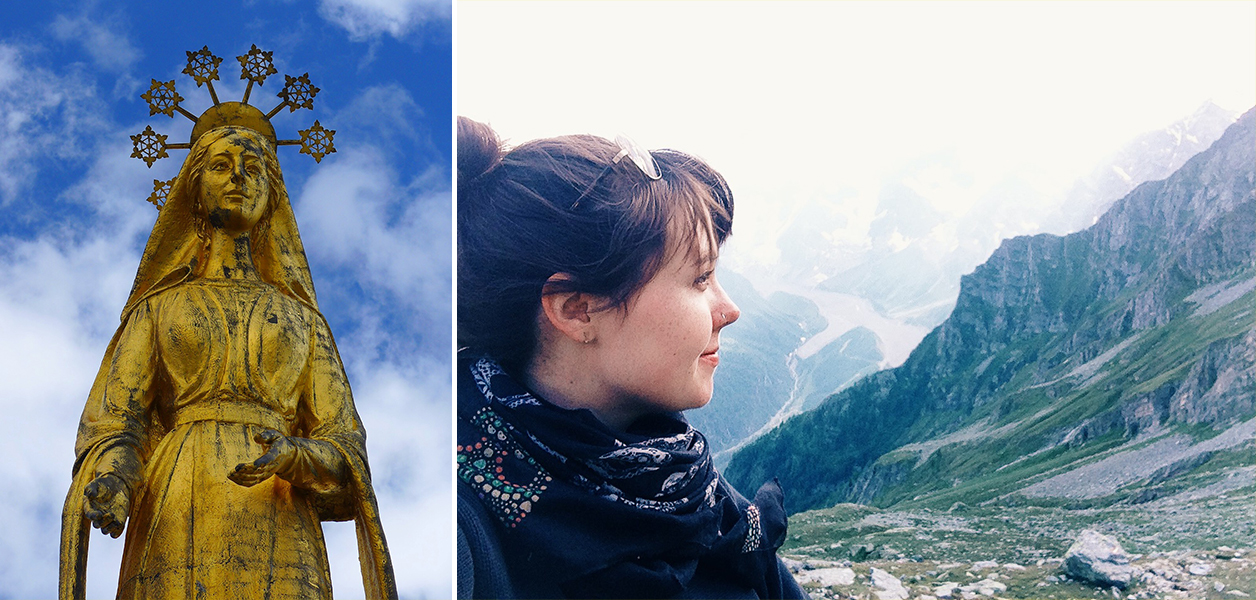 We jumped right into a couple of snow banks to climb to the summit and this gorgeous Madonna. Alberto chatted with a couple of hikers at the top and decided we should skip the lift back down the mountain in favor of walking down. He said it should take 2 1/2 hours. I bargained that if we were going to hike down the mountain, my reward at the end should be mushroom polenta, even though it was August. (Italians are, of course, very traditional about what foods belong to which season, and polenta is obviously a wintertime food. But I figured since I was cold, and walking through snow, it was acceptable). Since we no longer had to worry about catching the last funivia down the mountain, we continued past the summit into Switzerland and ventured toward a light aquamarine lake a lot of Swiss hikers were heading toward. After an hour we found a good rock with a view for our favorite lunch of pane nero, tomatoes, cheese, apricots, and dark chocolate.
Alberto loves maps, he can pore over one for an hour easily. And he loves to make sense of where we are in relation to other landmarks while we are hiking. He's constantly telling me the names of mountains and pointing out other lakes or towns while we're walking. I think it's so cute.
Italy has tons of 'rifugi' or refuges in their mountain ranges. They're basically big cabins that have a small bar and restaurant, and beds to sleep in for hikers. I first encountered these cozy places when I was hiking in the Sierra Nevada mountains in Spain a couple of years ago. I love them, you always find interesting people there (mountains people!), and the atmosphere could not get cozier. There were a couple of rifugi at the top of the lift serving up espresso, grappa, and mushroom polenta! After our hike back to the summit and past the Madonna again, we popped into one for the traditional glass of grappa.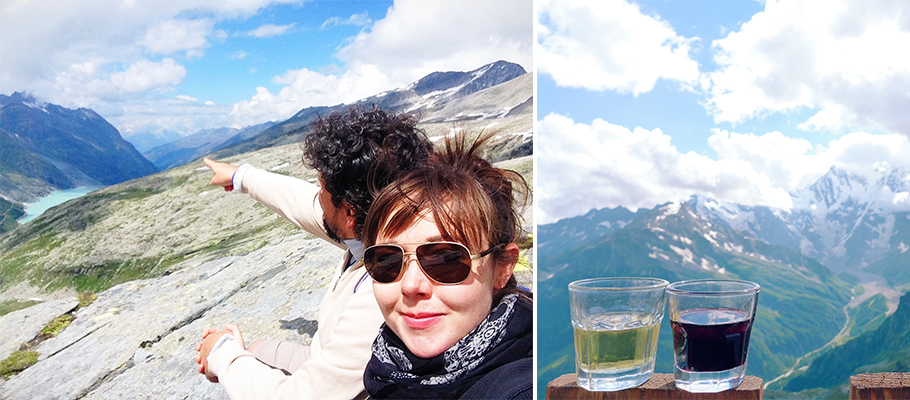 Chocolate and grappa are a tradition for Italian mountain hiking, so of course I had to try one. While Alberto chose a classic grappa, I went a safer route and chose the blueberry grappa (wild blueberries grow abundantly in these mountains). Readers, I've tried a lot of local alcoholic beverages, and grappa might have been the most revolting one I've ever had. I wanted to like it, but my face went through a series of bizarre expressions while I tried to swallow two tiny sips of my blueberry grappa. I quickly surrendered it to Alberto in favor of water.
Conscious that the sun sets a little sooner in the mountains, we started our descent through one of the most beautiful landscapes I've ever walked. This hike down was very challenging, but seeing the environment and plant ecosystem change as we clambered from bleak, snowy peak, through fields of scrub and tiny alpine flowers, through longer grasses, bushes, and finally pine trees (oh how welcome those pine trees were, as they signified we were finally getting close to the bottom!) was such a gift.
I couldn't stop myself from singing The Sound of Music songs. And even though Alberto doesn't even know what The Sound of Music is (sacrilegious), he managed to take a pretty great shot of my re-enactment. When I'm hiking and I get very tired, I start singing aloud. (I do the same thing when I'm running, in a very gasping sort of way). It was all Sound of Music, until we reached the pine forest. What an enchanting, fairytale-like forest it was too! Then, of course, I sang Into the Woods. 
Alberto suddenly became something like a National Geographic photographer, taking beautiful pictures of every new kind of Alpine flower we passed. I have so many of those beautiful pictures, here is a small sample: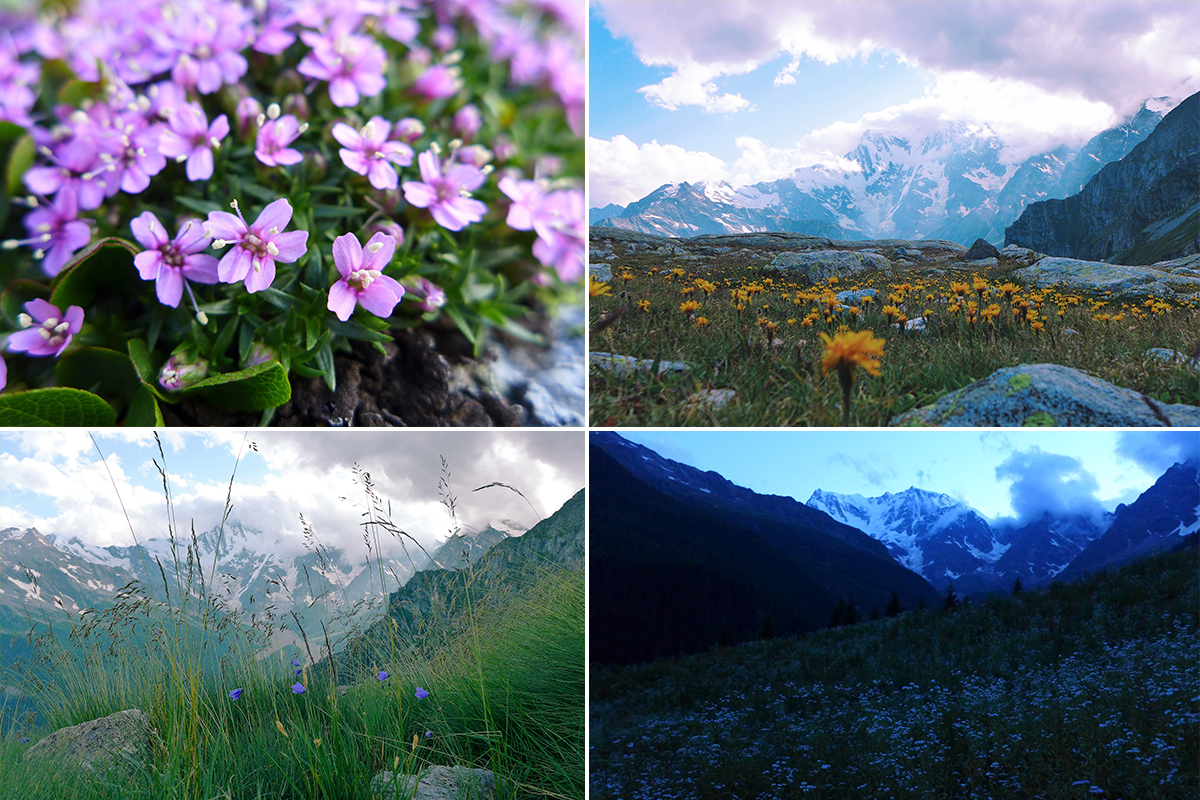 We could have paused and lingered and looked for the entire day, but the hike down the mountain was a race against the sun. We realized a couple of hours into the hike down that it was going to take significantly longer than the expected 2 1/2 hours. And I was feeling some worry that we'd end up hiking through the woods after dark, though never panicked. I figured, at the worst, Alberto had a working phone and my phone had a dinky flashlight on it. But it was truly a rushed walk in the end (and we were practically limping at that point our legs were so tired), through the dark forest to finally emerge into a field close to town after the sun had set.
At the bottom, absolutely exhausted, after 5 hours of steep downhill hiking (probably only 20% of the hike was not steeply downhill), I asked Alberto if he would have made the same decision to hike down again, knowing now how hard the hike was. We both decided that we would, but we would have added a good 3 hours to take some rests on the way.
Hiking Monte Rosa was my favorite day in Italy this summer. It really surpassed my wildest dreams of how grandly and exquisitely beautiful hiking in the Alps could be. And I'm so glad I got to see this dream come true with Alberto at my side. I've never had such a wonderful or supportive hiking partner. And he could really share my pain as we were both debilitatingly sore for a week after.
Desperate for some sustenance, we tried to find a restaurant that was serving polenta, but quite disappointingly, they were all closing! A very nice restaurant said they'd keep the kitchen open just for us, though they were not serving polenta, and I actually had one of my favorite meals I've ever had in Italy. True, I'm sure everything tasted unusually delicious due to how exhausted and mountain-weary I was. But this homemade gnocchi was a revelation. And after that strenuous hike I didn't feel an ounce of guilt like I usually would. We creakily collapsed into our beds after 1 in the morning, only to get up a few hours later to catch the train to Milan, a bus to the airport, and finally our plane to Sicilia.