Last winter I curled up on the couch for a couple of hours to read the delicious and thoughtful The Kinfolk Table. The book features not only recipes, but the people who create and cook them. When I turned the page to see this lovely lady with her bicycle, I just paused and thought 'this is perfect'. A tasteful but comfortable outfit, a polished but not fussy appearance, this woman is going about her day rather stylishly and seamlessly on her bicycle. (Yes, I am aware it is a styled photo shoot, but still).
Bicycles had been on my mind for quite some time. In fact, a few years ago when I moved to the West Village, I bought a bike. And, to be honest, New York City traffic and oblivious pedestrians scared me so much that I hardly used it. Riding that bike was so stressful to me at the time that I wasn't that bothered when it was stolen. Nevertheless, I loved the idea of bike-riding as transportation. How self-sufficient! How environmentally responsible! How good for your body! No need to descend into the swampy depths of the subway to pay an institution I loathe to get me to my destination in a questionable amount of time. No need to transfer subway lines (I avoid this at all costs). No need to get stuck in traffic. No need to wait for anyone or anything but the next traffic light (and maybe not even that).
When I saw this picture, it reignited my commitment to a bicycling lifestyle. Luckily, Alberto loves bike-riding, and had been an avid city bike rider for years before he got his scooter. He happily loaned me one of his dear bikes. He has a great eye for good frames, and tweaked and rebuilt the bike himself. It's an old bike of nondescript color, which makes me feel slightly less vulnerable to the bike theft in the city. And I love the old details.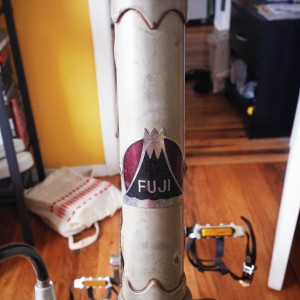 Since this spring, bicycling has been my main form of transportation. The first couple of weeks were pretty stressful, but I think I just got used to the danger. I love the extra exercise it gives me, and how quick, efficient, and cheap it is. By the time I've laboriously made it to the climax of the Williamsburg Bridge, breezing the rest of the way with gorgeous views on both sides is like living in a movie (except that I'm sweaty and out of breath).
But I must admit something to you, my dear readers. It is a rare rare day that I arrive at my destination so breezily and stylishly as the lady in that picture. Usually I arrive quite sweaty, and getting soaked in the rain is an inevitable disaster for a stubborn cyclist. I must embrace a done-undone look for my hair, as it could never remain meticulous after a spin on the bike. And sometimes (many times) I get a little caught up in road rage.
Bicyclists in Manhattan are not nice. Drivers of automobiles do not treat us as vehicles, in fact most of the time they somehow do not even see us. I've had a taxi driver pull over and stop directly in front of my progressing bicycle so abruptly that I braked a mere 2 inches from his passenger door. And I looked him right in the eye and swore at him. (I have a mouth like a dirty sailor when I'm on my bike, it is true). Pedestrians often step out into the bike line without looking for an oncoming bike. I actually ran into one once. (It could have been a great meet-cute except that I sharply scolded him for not looking for oncoming traffic). In New York, if there is not a car, pedestrians believe they have the right of way, and they will ignore your green light. Every day I see bicyclists yelling at cars and pedestrians in Manhattan. I yell too, though I usually only swear at cars, and yell something a little nicer at pedestrians: 'Watch out!!!'
And the pot holes. Oh the pot holes. These might be the most dangerous.
Brooklyn is blissful in comparison. More bikers, more aware pedestrians and drivers (50% of the time, at least), more bike lines, more bicycle culture in general. I always heave a little sigh as I ride off the bridge into Brooklyn streets.
Even as I carry my bike up 5 flights of stairs to my apartment (if you lock it up on the street overnight, your wheels will get stolen), I have loved being a bicyclist in New York.
P.S. Some great cycling tips.
P.P.S. Have you taken a bike out on the road? What's stopping you? Are you as frustrated with bikers as we are with everyone else?
(Photography for top picture by Parker Fitzgerald from The Kinfolk Table).