At this point in my Italian adventure, I was really relishing the idea of some time completely to ourselves. No expectations, no phone calls, no offices, no one wondering when we'd be home, just unadulterated me-and-him time.
After our late-night return from our big Monte Rosa hike, we felt creaky, tired, and stinky getting up before the sun to take a car, train, bus, and plane to Sicily. And after an incredible solo-trip to the Amalfi Coast last summer, I had some pretty high expectations for this island.  Too high…

When we landed in Palermo, a cousin of a friend (Salvatore) picked us up from the airport to take us to a family home in a little town called Castellamare del Golfo. But, in true Sicilian fashion, instead of taking us straight to the house, without asking, he whisked us off to give us a tour of the town, neighboring villages, local favorites, and beaches we may want to visit. Incredibly nice, though a bit much for this travel-weary, Italian-weary, overdressed girl. Of course hardly a word of English was spoken, and I was left to look out the window at the glaring landscape burnt by the August sun, wishing I knew what everyone was talking about.
So we moved from family obligations to Salvatore obligations. He and his wife were so nice to us while we were in Sicily. In fact, quite a bit too nice. Instead of having a couple of days completely to ourselves, we had a couple of days of me dreading Alberto's ringtone, as Salvatore would pop up to put us in his car and take us places, chattering nonstop in his Sicilian Italian. I know it sounds dreadfully complainy, but I was so tired of being politely (and just necessarily) excluded from conversation, that I would have given anything to throw Alberto's phone into the Tyrrhenian Sea. Salvatore's character is the type that, after stuffing you with a local lunch fit for two people, he absolutely could not imagine you refusing a Sicilian pastry; and though you politely (and firmly) decline, he will buy it for you anyway while you're not looking, so you have no choice but to eat this thing that he loves but you don't want.
The family house we were staying in had been closed up for many years, and the kitchen was more of a camp-kitchen. But we had a bed and a working bathroom, though no internet (which I ridiculously but sorely missed), and a view over the marina. Castellamare del Golfo is a very old little fishing town on the western tip of Sicily, graced by a pretty awesome castle (you can see it all lit up through our blinds in the picture above).  We were staying right in the oldest part of town, and, we quickly learned, the most social.

Something that made me sad throughout our two weeks in Sicily was that our situation had such potential to be an amazing little getaway. Someplace international tourists completely overlooked, old towns, ruins, and history, an amazing sea to play in. Friends see my pictures and think I had an amazing time. But there was always this fly in the ointment, so to speak. We were in Sicily during the 2 craziest, packed weeks. True, Castellamare is overlooked by international tourists, but it's where all of the Sicilians go in August. Every evening the marina would fill up with hordes of  Sicilians, dressed up to have their aperitivi, dinner, make their passegiata, meet up with friends for more drinks, gelati, etc. This fisherman's marina turned into a veritable outdoor nightclub after dark, with every restaurant and cafe blasting a different song simultaneously, all of them clashing in our bedroom until 3 or 4 in the morning. And on top of this cacophony, was another one– only one road led down to the marina before it turned back up into town, and it passed right outside our front door, below our bedroom. So there was a constant stream of VROOMING scooters and cars making us wince from 6 in the evening to 3 in the morning.
Alberto might be the most patient man I know, but I was quickly exhausted by this atmosphere. I am not into clubs, and I am not into crowds. And though I must impress upon you how nice and friendly Sicilians are, Sicilian culture is not one that jives with me. Most Italian Americans are descended from Sicilians, and Sicilian culture is the close ancestor of the Jersey Shore culture. It was very apparent.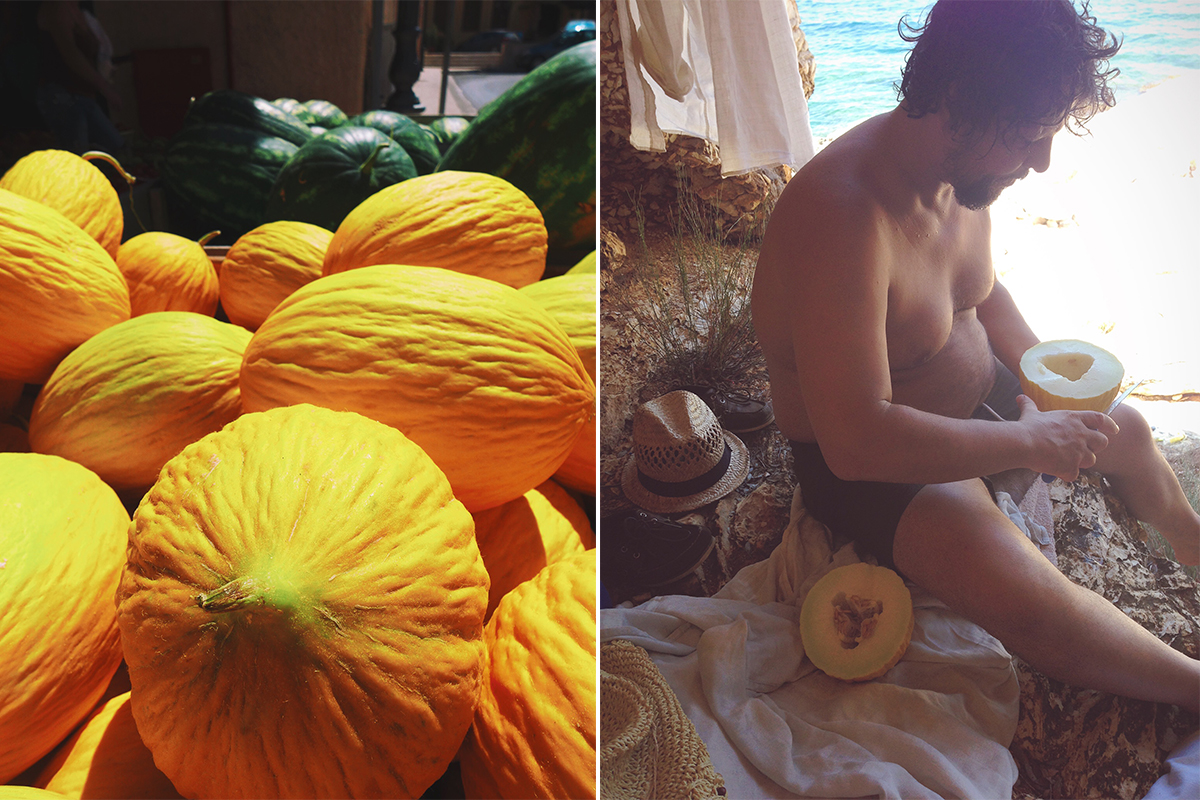 We knew we just had a couple of days before being joined by Alberto's brother and cousin, so our M.O. was lazy relaxation. I couldn't wait to get to the produce market, which didn't disappoint. Buying produce in Sicily is mind-bogglingly cheap, and there is just so much. We were obsessed with tomatoes during our two weeks' stay and ate them like candy. I'm generally obsessed with tomatoes in the summer, but I think these were the tastiest I have ever, or will ever, have. I also adore these melons that you see everywhere in Sicily. Literally everywhere you go, there is an old man with a box of these melons by the side of the road. They have so many they have no idea what to do with them. I'm sure they're a kind of honeydew, but I just love how they look like sunshine reincarnated into a fruit. A gigantic watermelon is $1. Crates of delicious local olives, huge bouquets of local oregano, more stonefruit than could ever be eaten, figs, prickly pears (though we just–very carefully– picked some from the side of the road), local wine, the list is endless. And all for probably a quarter of the price that you get in New York. I couldn't stop lamenting how much processed/unhealthy food I saw everywhere, but I also could not deny the glory of this cheap abundant produce. Alberto also translated from the market's owner that there are some laws in Sicily which require that all of the produce sold in these markets is local to Sicily. He wouldn't get artichokes from Egypt, for example, because he'd be fined if he did. Though I have no idea how organic or non-organic any of the produce was– 'organic' was never an option in Sicily.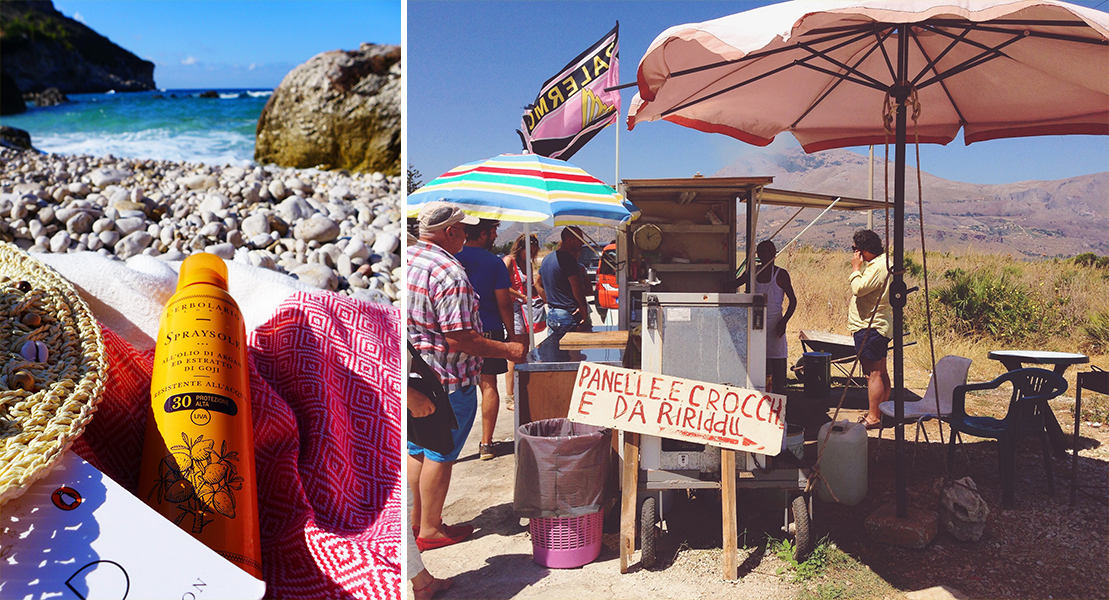 The first couple of days was all scooter exploration and beach. (Of course) we rented a scooter for the two weeks, packed up our beach gear, slathered ourselves with sunscreen many, many times, and read, napped, and swam. Alberto and I prefer barren, rocky, and kind of challenging spots to set up beach-camp to sandy, popular stretches with chairs, umbrellas, and a bar on hand, (though after a week and a half of scrambling over scratchy, perilous rocks in flip-flops I don't think I would have minded the latter either, truth be told). Above is my favorite sunscreen ever, a natural, Italian spray by a great natural skincare brand there, L'Erbolario. The picture above and to the right is a locally famous stand set up by an ugly stretch of road between Castellamare and the smaller, cute little town of Scopello. So many authentic Sicilian snacks are fried, and this lovely old man (with incredibly tanned skin) sits under the scorching hot sun every day to sell tons of fried chickpea 'panelle', which you can eat by itself or sandwiched into a white-flour bun. How is he so skinny? It was traditional Sicilian, specific to this area, so obviously we had to stop and have some, but I'm still shaking my head at how much fried food I ate in Sicily. Alberto is so lovely to travel with because he just loves talking with the locals. Of course I never understand what they're saying, but he'll usually fill me in afterward.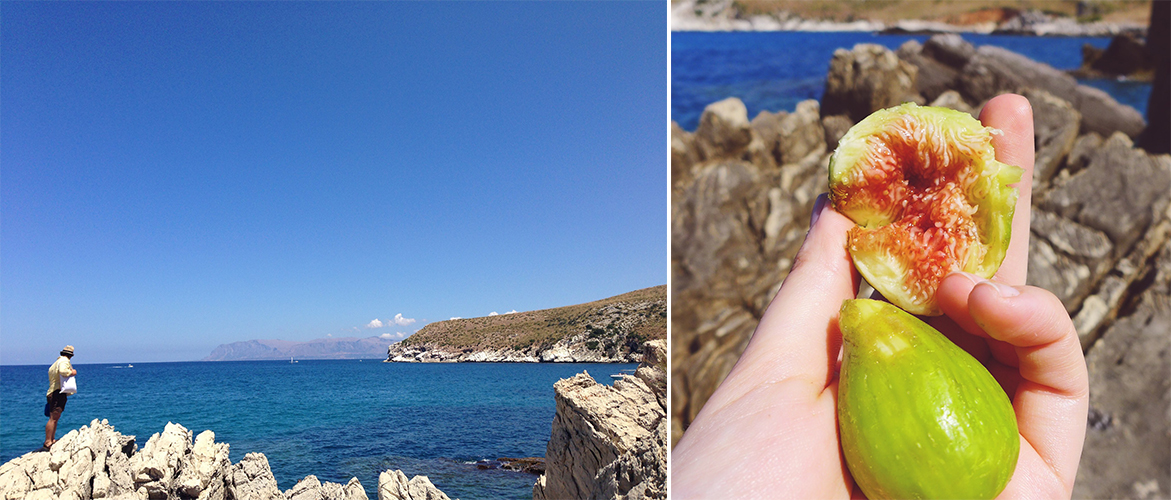 The gorgeous water and white, craggy coast is so abundant in Sicily that you start taking it for granted. Many great beach spots were crowded with Sicilian visitors, but we always managed to ferret out a little corner for us. Alberto is not only very good at finding a good beach, he's also great at seeking out the perfect spot at the beach– rocks that seem unwelcome to many are his playground, and he'll find the one little pocket that is flat enough to sit on, and safe enough to dive from. He fearlessly (and somehow always safely) jumps in the water first thing, and was very patient with my fear of jellyfish. (I was crazy-lucky, we only saw one the whole time, and Alberto was very surprised there weren't hundreds more). I love swimming, but Alberto loves swimming more, and I loved going for swims with him (especially after his cousin arrived and we could borrow his snorkel mask so we both had one).
The sun in Sicily in August is so scorchingly, bone-dry, intensely fierce that jumping in the water was the most delicious feeling (though it was the saltiest water I've ever been in). I usually love the sun, but during my two weeks in Sicily I sought out the shade wherever we went. I was a fugitive from the sun, and dusk was my absolute favorite time of day. Which is a shame, as it was so fleeting.
Dusk in Sicilian August is so much gentler than the day. Daytime is harsh and flat, the landscape looks burnt (and often literally is), and everything you do aside from swimming requires an exhaustive, sweaty, dusty effort. Dusk spreads this beautiful golden, and then purple light over the land, softening everything and soothing your stressed skin. The landscape has dimension again as you pack up your beach-camp and climb (always up a cliff) back to your scooter. You love being outside again, and indeed, everyone starts emerging from their protective houses to mingle after the sun has gone to bed.
More about Sicily, including my favorite day there, coming soon.
Have you ever been on a trip that was as challenging and disappointing as it was beautiful? Have you ever felt lonely in a foreign country and how did you deal with it? Have you ever made the transition from solo-travel to couple-travel?