Alberto and I are in the Poconos at a friend's house this weekend. It's kind of glorified camping, as the house was recently purchased and is about to go through some major renovations. With no furniture, we're sleeping in sleeping bags, we built a fire both nights, and the house is in the middle of the woods. But we have some heat and a basic kitchen. We roasted chestnuts over an open fire last night– dreamy!
I'm feeling a bit under the weather, but enjoying the Pennsylvania Fall foliage and fresh, brisk air. And I'm getting a great big dose of my favorite household chore: raking leaves! Here are a few links that may or may not have sent me into internet rabbit holes this week:
Maybe I spent 3 hours reading all of the recipes on Eleanor Ozich's lovely blog. This is my ideal diet– no refined sugars, gluten-free, whole foods, and she keeps things simple. And beautiful, I may add.
New Zealand just moved up a notch or two in my travel priority list just so I can visit her dreamy-looking cafe, Mondays. What an inspiration.
A letter Amelia Earhart wrote to her fiancé on the morning of their wedding day.
Harrison Ford makes a great ocean in this powerful campaign.
As someone who was obsessed with Call the Midwife, I was delighted to learn that Miranda Hart, aka 'Chummy', has her own show that you can watch on Hulu. No, it's not the most intelligent comedy I've ever watched, but I'll always have an affinity for British humor.
I'm in big money-saving mode, but it was exceedingly tempting to look at this great outerwear roundup. (Though NYC winters have made me pretty skeptical of the cute options in favor of more arctic options, I must say.)
I love everything pumpkin, and this superfood smoothie is sure to happen in my household!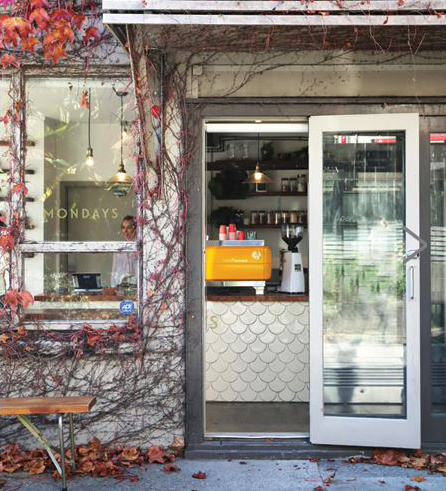 What festive activities are you up to this weekend?
(featured images from Mondays Wholefoods website, linked above)