Some gorgeous cookbooks are launching this fall, and I can't wait to get my sticky baking fingers all over them!
This change-of-season, especially when the daylight savings shift happens, always discombobulates my emotions a bit. I'm on-guard, watching out for depression, and strategizing ways to stave it off. Baking helps. It's a comfort activity that makes me feel at home, keeps my hands and mind busy for an hour or two, and keeps me productive. I just have to make sure I balance it out with some exercise, or my pumpkin bread is bound to get the best of me. And after dinner there's really nothing better than cutting myself, my man, and our roommate a slice of something delicious that I baked myself, rounded out with a mug of milky tea.
1). My New Roots is one of my favorite foodie blogs. Sarah Britton creates perfectly balanced dishes with loads of yummy flavor, and loads of nutrients too. I can easily have a cookbook problem, so am very choosy about the books I actually bring home, but I can't wait to have this one planted on my shelf. (Vegetarians, vegans, and GF folks rejoice!)
2). When I go to L.A., Huckleberry Cafe is a must. Along with the bajillion other people who patiently line up. I am just fervently crossing my fingers that their recipe for lemon pistachio cake is in here, because my-oh-my did it leave a lasting impression on me.
3). Amy Chaplin's first book, At Home in the Whole Food Kitchen: Celebrating the Art of Eating Well, looks like a beautiful tool to have on hand to help you build a gorgeous pantry. Italians love to have a fully-stocked kitchen, and I think it's been rubbing off– time to stock up on mason jars! It would be lovely to cook and bake without the inevitable schlep to the grocery store. (Vegetarians, vegans, and GF folks rejoice!)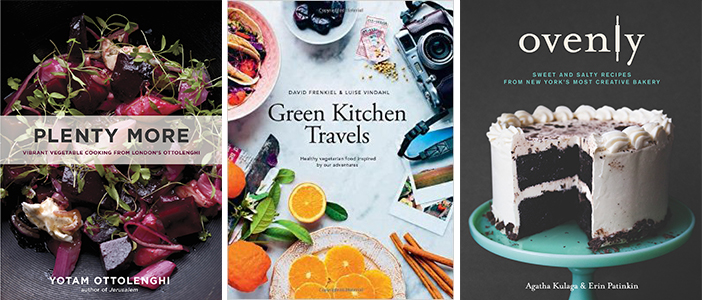 4). You know anything Yotam Ottolenghi publishes is going to be an instant best-seller, but I'm excited to see even MORE veggie-ful dishes. (Vegetarians and vegans, hurrah!)
5). Green Kitchen Stories is a beautifully designed foodie blog, created by a Scandinavian family, featuring vegetarian recipes using whole food ingredients. Scandinavian? Vegetarian? Whole food? That's obviously right up my alley. Their 2nd cookbook features recipes inspired by their travels around the world with their baby daughter. (Vegetarians, vegans, and GF folks rejoice!)
6). This darling bakeshop in Greenpoint, (one of my favorite neighborhoods in New York City), just published their first cookbook! They've received boatloads of praise and recognition from New York City food critics, and I love that the founders are inspired both by their Eastern European background, and by New York's history (they're famous for their Brooklyn Blackout Cake). I can't wait to start baking with their beautiful book for inspiration. (A few great vegan and GF recipes sprinkled in there too!)
P.S. What cookbooks are you excited for? Do any of these particularly jump out to you? What's your most-used cookbook?