With the cold snap this week, I suddenly wanted bright, bitter grapefruit juice every morning. Once the heat is on in the building, I always wake up incredibly thirsty, and this smoothie hit the spot. I ended up making it almost every morning this week.
---
1 C greens (I've been using pea shoots this week, but any green will work)
3/4 C grapefruit juice
3/4 C frozen organic berries
1/2 C filtered water
2 Tbs powdered peanut butter (I would have used vanilla protein powder for the protein component, but I only have chocolate in my cupboards at the moment. Hemp seeds would work great here too.)
1 heaping Tbs psyllium husk powder
1 Tbs chia seeds
1 heaping tsp matcha green tea powder
1 serving of Vitamin D drops
---
Last weekend, amidst a messy home improvement project, no less, I made a vegan pumpkin cinnamon roll loaf. Pairing a warmed slice with this winter smoothie was winter morning perfection. (Never mind that it's still, technically, Fall… I'm in no rush, I swear.)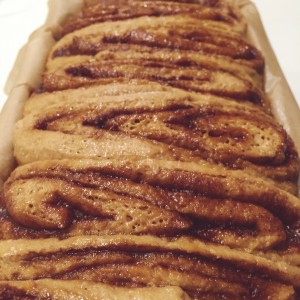 P.S. What other ingredients does your body want when it's cold outside?