Citrus and snow allow me to (almost) forgive winter for its early sunsets. As I enjoyed our first feeble snow in Brooklyn this week, I cozily shuffled around the kitchen in my slippers, NPR softly chatting to me in the background, cherishing these gorgeous specimens of fruit. I mean, just look at these beauties: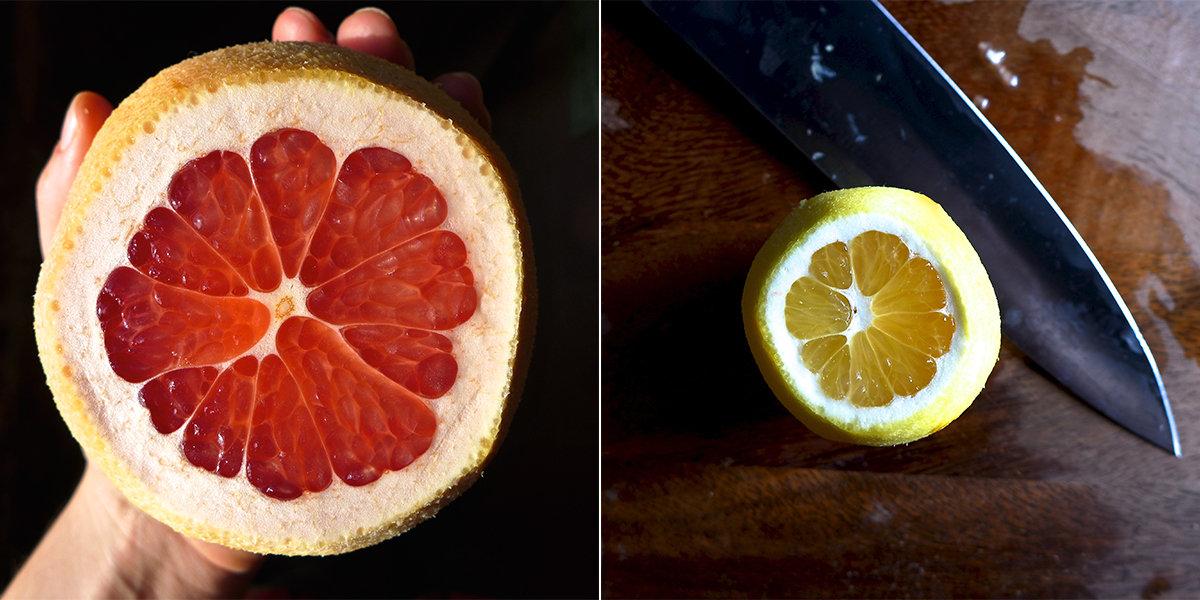 I baked quite a few cakes for friends over the holidays, and almost all of them came straight out of Alice Medrich's new book, Flavor Flours. I have long loved baking with alternative flours to the ubiquitous wheat, but I have rarely come across so many wonderful recipes that really celebrate an alternative flour, as opposed to just substituting. All of the flours that Medrich works with are gluten-free, and the resulting light and buoyant gluten-free baked goods have been a revelation.
I've also been binge-reading a new-to-me blog, Apt. 2B Baking Co. One of Yossy's features was a huge gathering of drool-worthy, citrus-celebratory recipes. I couldn't get her Meyer Lemon Grapefruit Bundt cake out of my mind. I guess citrus fruits are to my winter what tomatoes are to my summer, I just can't get enough.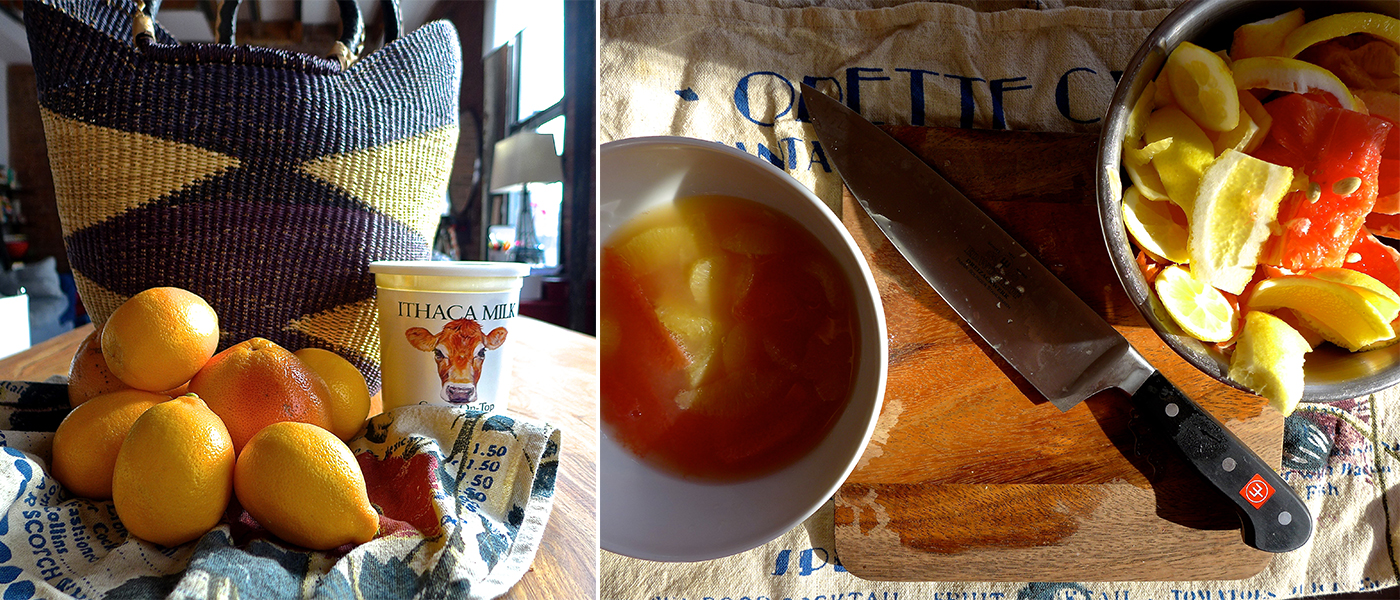 I combined some Medrich with some Yossy, and ended up with such a lovely winter cake. I love how it uses the whole fruits, delivers a swift tartness, but backs that up with a warm, surprising depth.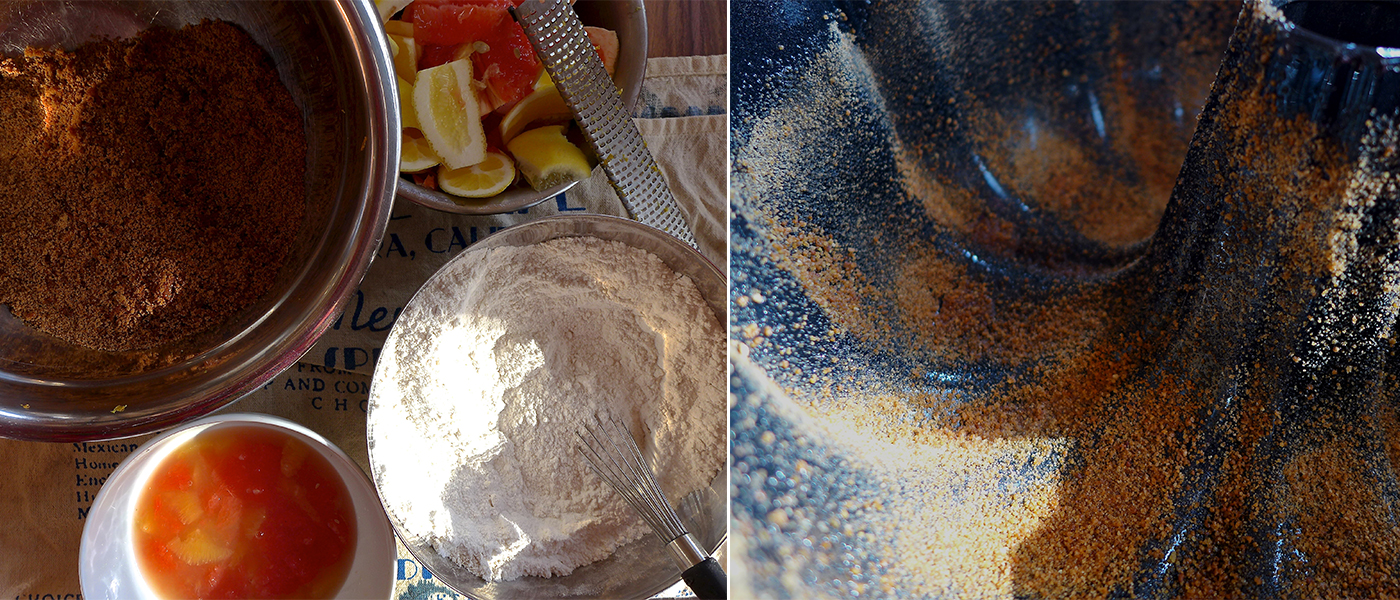 You can use this recipe for a Bundt cake, like I did, but you can also split it between 2 round cake pans to create a layer cake (I might spread a nice jam or lemon curd in the middle). You can also use a tube pan, or 2 loaf pans.
A couple of notes: Especially when using alternative flours, I highly recommend using a scale rather than measuring cups. Honestly, it's so much more accurate, easy, and tidy! Set yourself up for success and embrace the scale! Also, I have been using organic coconut sugar in place of cane sugar, but of course you can use whichever sugar you like. Coconut sugar registers lower on the glycemic index, has a more natural production process, and has more nutrients (primarily zinc and iron) left in it. Subbing in your preferred dry sugar will give you wonderful results as well.

---
Meyer Lemon + Grapefruit Bundt Cake
1 grapefruit
2 meyer lemons
2 2/3 C (400 grams) white rice flour
½ C (50 grams) oat flour
2 C minus 3 Tbsp (360 grams) coconut sugar
½ lb (2 sticks/225 grams) unsalted butter, very soft
¾ tsp salt
2 tsp baking powder
1 tsp baking soda
½ tsp xanthan gum
1 C plain yogurt (any percent butterfat) or slightly watered down Greek yogurt
4 large eggs
Glaze
2 meyer lemons
2-2 ½ C confectioner's sugar, sifted
tiny pinch of salt, really tiny, a few grains tiny
Equipment
Choose one of the following:
Two 9-by-2-inch round cake pans
One 10-inch tube pan with removable bottom
One 10-12 cup Bundt pan
2 loaf pans
Position a rack in the lower third of the oven and preheat the oven to 325 degrees F. Grease the pan(s) with coconut oil or butter and coat with coconut sugar. Line the bottoms of the layer cake pans with parchment paper.
Put the sugar into a large bowl and zest the grapefruit and lemons directly into the sugar. Use your fingers to evenly distribute the zest throughout the sugar.
In a separate bowl, supreme the grapefruit and lemon by cutting the tops and bottoms off both fruits. Then, with a very sharp knife, cut the white pith away from the outside of the fruit. Over a bowl, carefully cut the wedges of fruit away from the membrane letting the fruit and juices fall into the bowl. Remove any loose seeds that have fallen in and gently break up the fruit into ½" sized pieces. (For my visual learners, Martha's got a nice recap for you of how to supreme citrus. Turning on some Supremes might help too).
In another bowl, combine the rice and oat flours with the salt. Add the flour mixture to the sugar/zest mixture, and add butter. Mix on medium speed (with a paddle attachment if you have one) until the mixture is the texture of brown sugar, about a minute. Add the baking powder, baking soda, xanthan gum, yogurt, eggs, and juices (though not fruit segments) and beat on medium-high speed for 2 to 3 minutes; the batter should be very smooth and fluffy. Gently fold in fruit segments.
Scrape into the prepared pan(s) and bake the layers for 25-30 minutes, or the tube or Bundt pan for 45-50 minutes, until a toothpick inserted in the center comes out clean and dry. Set the pan(s) on a rack to cool completely.
Slide a thin knife or a small metal spatula around the edges of the layer cakes or the tube pan (and the tube) to detach the cake(s) from the pan(s). Loosen the cake from the Bundt pan by rapping all sides of the pan against the counter. Invert each cake onto the rack and peel off the parchment liner. Turn the layer cakes right side up.
For the glaze
Zest and juice the lemons into a bowl, then whisk in 2 C of confectioner's sugar and the tiny pinch of salt. If the glaze looks very thin, add the rest of the sugar. If it looks too thick, add a few more drops of lemon juice or even water. You want it to be thick, but pourable.
When the cake has mostly cooled, use a skewer to poke a few holes in the top. Drizzle on ½ of the glaze and let it set for about an hour, then pour on the rest of the glaze. Alternately, you can let the first layer of glaze sit overnight before adding the rest.
Notes:
make sure all of your ingredients are at room temperature.
you can also make this batter into 2 loaves, check them after about 45 minutes for doneness.