Last friday was my birthday (and saturday was of course Valentine's). Alberto's been working on a project in Miami for months, and when he realized he'd have to be in Florida over my big weekend, he invited me to fly down with him. Of course I instantly said yes (freezing winter in NYC, spending my birthday and Valentine's with the man I love, weekend getaway– how could I have said no?) The instant I stood by the ocean, runny nose and all, I recognized what a wonderful idea this had been. The calming effect of the waves helped ease my anxiety, and spending a long weekend with my idea man helped me focus.
We woke up and ate a ridiculous amount of locally grown tropical fruit (well, on my part at least), brewed a pot of coffee, and sat down to our computers for a few hours. My station was either the bed or the hammock, while Alberto commandeered the kitchen table. We were staying in an AirBnB apartment in South Beach so we had easy access to a kitchen and the ocean. For lunch we walked to Juice & Java every day– huge cheap smoothies and juices + jumbo salads. I've rarely met a salad I couldn't finish, but J&J delivers. It's just a couple blocks from the beach, so we could eat and jump in for a quick swim before we headed back to the apartment for more work. We were there Friday-Tuesday, and were so productive– that's really something that delighted me about this trip, it was the perfect balance of work and relaxation during a time when both Alberto and I feel a little overwhelmed by work. No cars, just walking and biking (South Beach has a very popular Citibike program). In our little art deco apartment, the palm tree branches swaying outside the window, we could be so industrious and relaxed simultaneously.
On Monday Alberto showed me a 3D model of my space, as created by a talented intern of his. Alberto and I had created a rough layout the week before, and I honestly thought that was as technical is my drawings were going to get.
But, as I was industriously working on my Kickstarter campaign, he calmly called me over to his desk to see this: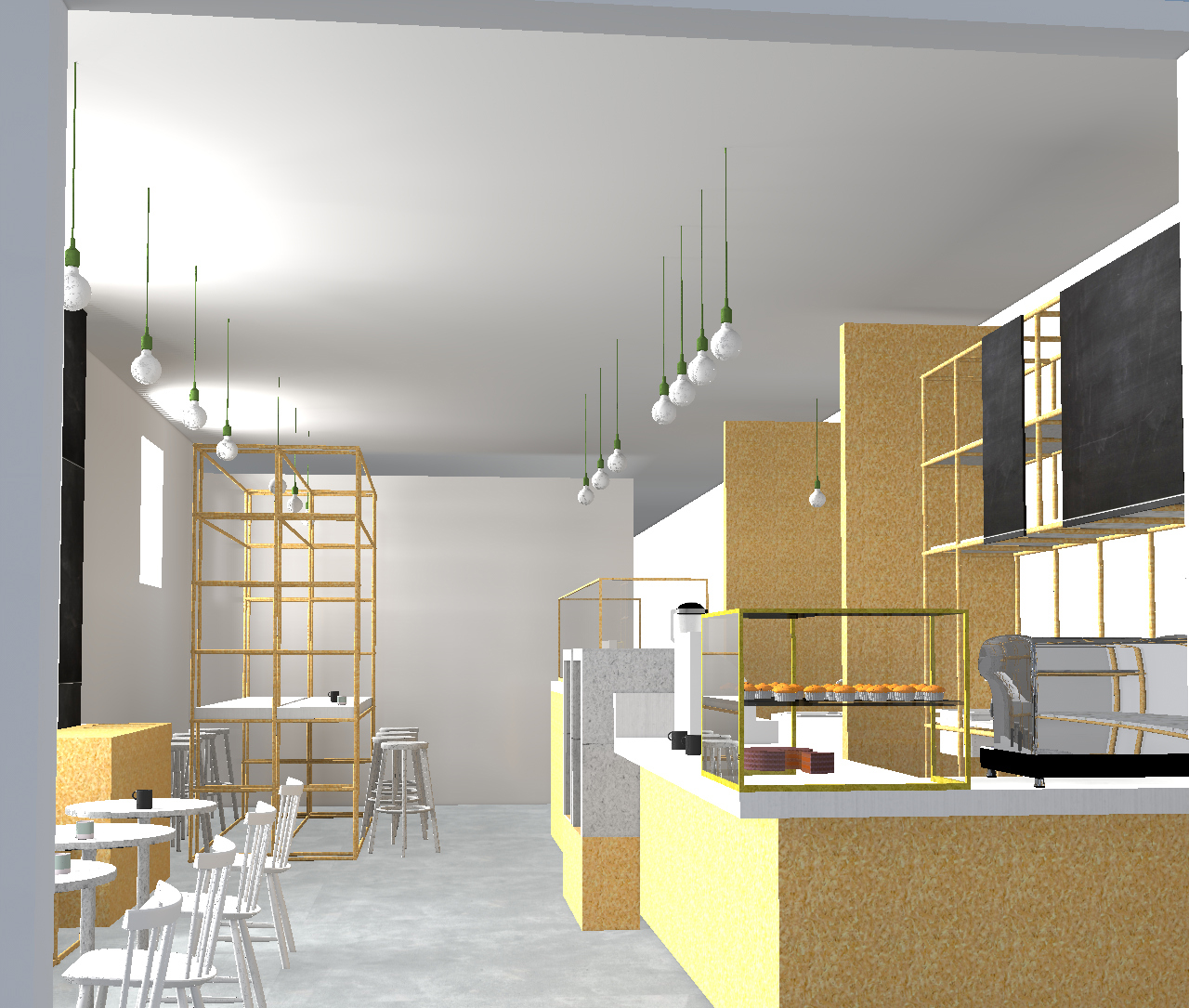 There were 5 more images to show me different perspectives of the space. I hadn't been expecting this, and I felt my heartbeat quicken seeing my cafe come to life! And then, at the same time, I could see that Alberto and his intern had kind of run with an idea that I wasn't totally on board with, (the scaffolding-type shelving). I could tell Alberto had wanted to surprise me, and expected to see delight. Of course I was impressed with the rendering, but tried to start a dialogue about simplicity and open space. I also committed to staring at the model for a good hour to see if I would come around. I'd had a vision in my head of what Stonefruit would look like, and seeing someone else's vision was a shock. I couldn't tell if it was bad or good, just different. So I got into bed to digest the images.
I really liked that Alberto and his intern had come to the table with their own ideas. I know I'm the head of this project, but I've never designed a cafe before and I know I'm not a magical genius. So I didn't want to just turn down their idea, and I recognized how much work had gone into the 3D rendering. I kept stewing over the images as we flew back to New York (and the freezing temperatures), and I actually did come around. I had a list of changes that I'd like to see, but I was willing to play ball. My first day back in NY I worked at the cafe I've been at, and I showed everyone the images to get their feedback– mostly very positive!
So I headed into Alberto's office to sit down with the intern, at which time she casually opened up these: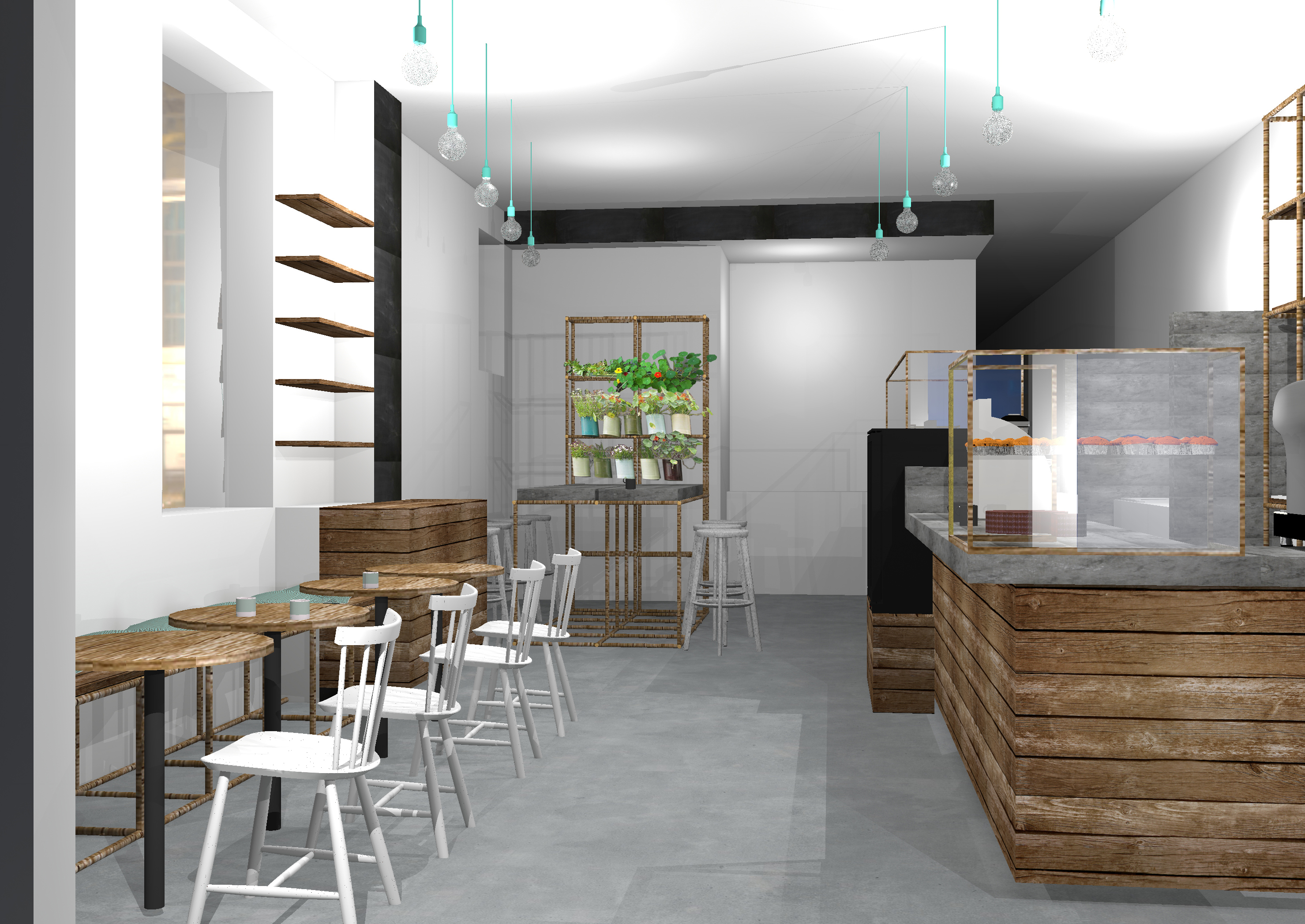 And then I really was surprised and delighted. I am so happy with the design work Alberto and his intern have done, and I am so excited to see it come to life. I had such fun this week, accomplished a lot, and am excited for more! I met with our contractor this weekend and we start construction this week. I'll be picking materials, visiting lumber yards, and buying supplies! I'll be meeting with my designer for bags, cards, and more (that's going to such a fun meeting), and hopefully starting some PR work. My first week was filled with lots of anxiety, and though I still have a constant hum of anxiety, the fun and drive in this project is really kicking in.
And then this happened. I met my contractor at the space tonight and walked into 3 inches of water on the floor, with more pouring in all the time. Really, the video does not do it justice. And of course my landlord is out of the country for two weeks. After some emails, phone calls, text messages, and some confusion, the situation is supposedly fixed. I'll be by first thing in the morning again to check damage and request replacement drywall ASAP. I guess this is sort of what I asked for, right?
P.S. What do you think of the designs?