This week was all about Stonefruit's Kickstarter campaign. I've been planning the campaign since before I signed the lease, but it's taken this long to get the video completed and the tote bags designed. Since it was planned out so long in advance, I somehow thought it would feel like no big deal to finally launch. Instead, I felt my biggest peak in anxiety since I signed the lease in the first place.
I had a pretty clear plan mapped out– an excel spreadsheet of every person and publication I would reach out to, a social media plan, many requests to share the campaign, rewards strategy. But I realized that so far, aside from the immediate rock of support that Alberto has provided, I haven't needed to really ask for help. I saved up the money that serves as most of my required funds myself, I've had a pretty clear idea of what I wanted Stonefruit to be from its inception, I started this ball rolling, and every day I figure out how to accomplish the next challenge in this process. And suddenly, with my Kickstarter, I felt like I was asking for not only help, but help and action. And it made me feel intensely vulnerable.
I've always liked the idea of Kickstarter because I didn't feel like it was asking for free money. I am more than happy to trade my talents, skills, abilities, and hard work for a contribution. Nevertheless, when I clicked that Launch button, I felt like I was asking for help, and a lot of it. Who knows, maybe this is what it will feel like when I open my doors for business, and I hope quite a few people will want to walk through them and give me their business. Essentially, I'll be asking for my customers' help too.
I was also putting huge pressure on myself to not be a failure at Kickstarter. When I clicked that Launch button, I just could not bear the idea of failing. If I fail this crowdfunding, I will feel like all the people I know, and all the people who watch the video (357 and counting), think I am stupid. Before this campaign, it didn't matter to me if other people thought I was stupid for pursuing this project. I felt it would be successful, bring me happiness, and be a worthy contribution to my community, so I was going to do it. Now, since I'm asking for people to weigh in on whether or not they think this is a good idea, I have to listen to their answer. And so far, it's not going as well as I expected.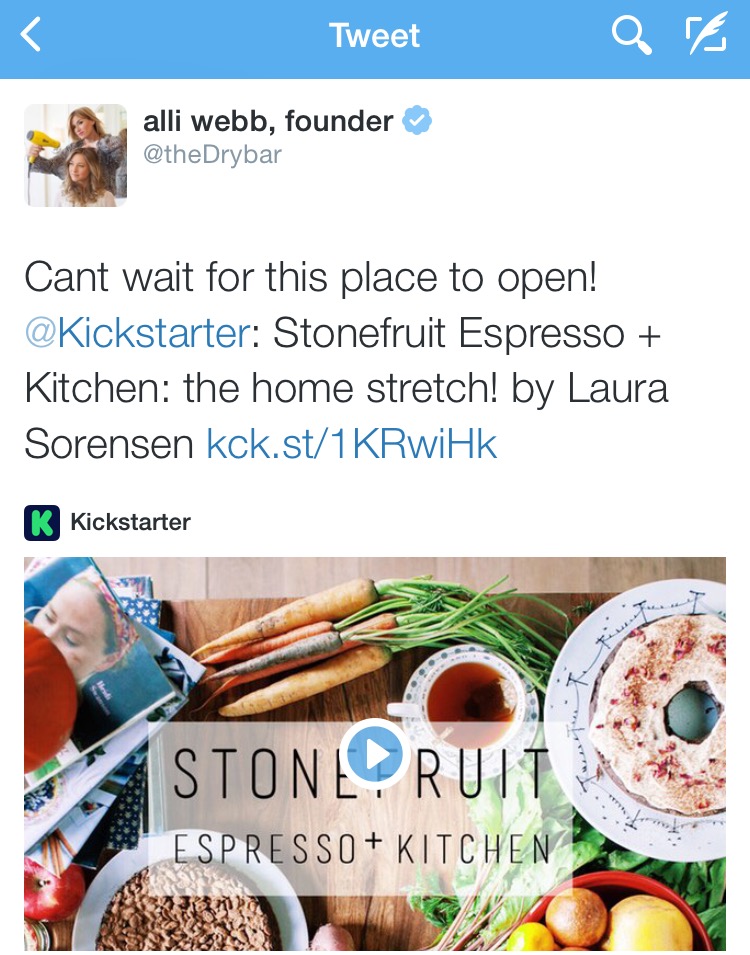 Kickstarter chose my campaign as a 'Staff Pick', which had me literally jumping and singing around my apartment in joy. Alli Webb, the founder of Drybar, with well over 20,000 twitter followers tweeted my campaign. And Mara Kofoed, blogger behind A Blog About Love, gave my campaign such a lovely highlight on her inspiring blog, and hired Stonefruit to do some catering for her July event in Brooklyn.
I am so so appreciative of all of the shares and pledges that have been offered so far. I think each and every one of these people is amazing, and I actually tend to say a huge 'Thank you' out loud when I see a pledge come in. But I know my Kickstarter progress is not looking good. It's true, there's still 3 weeks left. and I will be trying my damnedest to make them count, but this just might be a huge lesson in humility.
Featured image by the incredibly talented Nick Stone.